Our musicians can't wait to get back to performing in-person concerts for you in March, but in the meantime they are once again finding ways to stay busy. Not only are they playing and practising, but like many of us, they're also cooking, watching TV, and discovering new pursuits. This month, we're catching up with a few musicians and asking them 5 questions about what they're up to.
8 March 2022
What are you listening to?
I've been indulging in mini dance-parties throughout the day, particularly when I put down my instrument after practice sessions. Some artists I've been jamming to lately are Jacob Collier, Cory Wong, Propaganda, Mac Miller, and Run The Jewels.
What are you reading?
Well, I've been trying to read Maestros and Their Music: The Art and Alchemy of Conducting, but I've found it unbearably pompous and self-righteous (the author is a conductor himself, so maybe I shouldn't be surprised? haha). I just picked up a copy of On Trails, by Robert Moor, and I'm looking forward to starting that.
What are you watching?
Honestly, I'm not watching much these days. With practicing, woodworking, and mountain days, I've not had much time to watch movies or shows. I have, however, been digging into more podcasts. Hardcore History and Let's Read are two current faves.
What are you cooking?
I recently got a new wok, and I've enjoyed using it for various curries and stews. Mostly experimenting without recipes!
What is your favourite place to be outside on a winter day?
I'm still not a skier, but I do enjoy showshoeing and hiking/scrambling throughout the winter. My favourite place to be is on top of a summit. To name a few: Little Lougheed, Loder Peak, Packenham Junior, and Thunder Mt.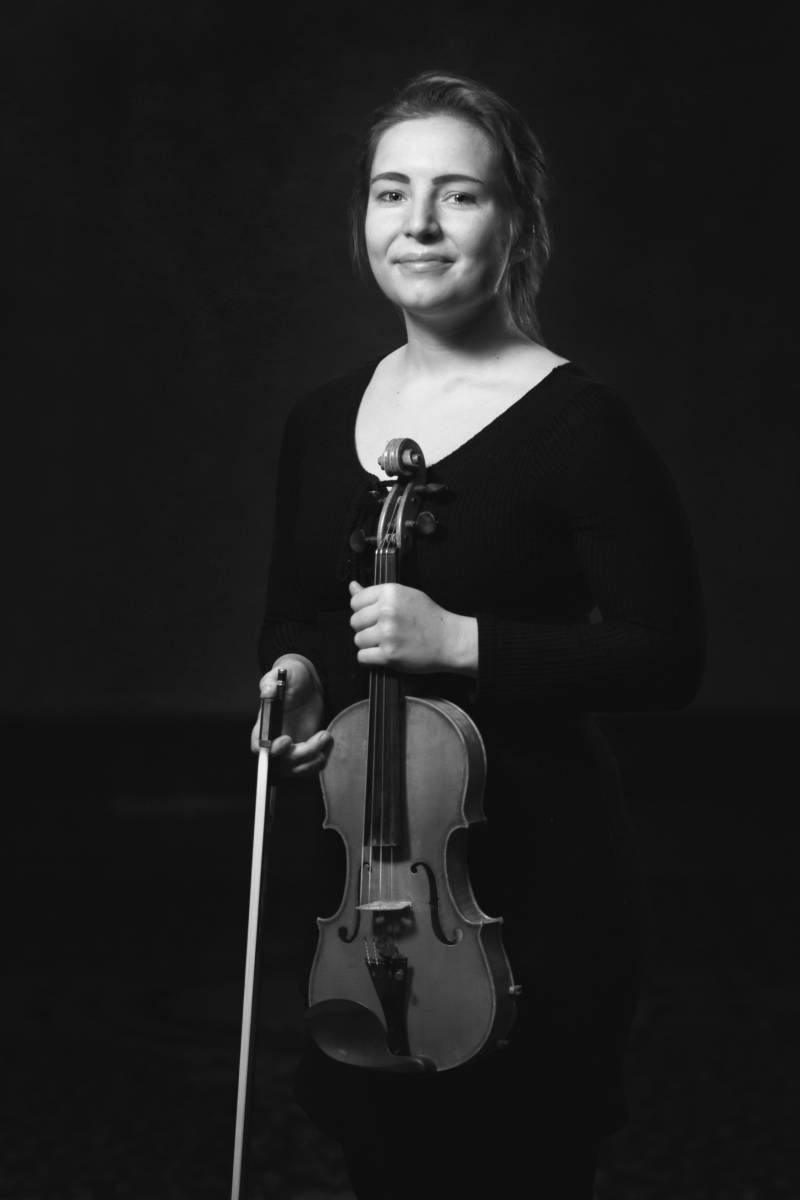 28 February 2022
Erin Burkholder (Second Violin)
What are you listening to?
I have been digging into the great soul classics. Growing up I didn't have much exposure to anything beyond classical music and the usual white dad rock. It's a treat to discover some of the most powerful music of all time, forever relevant.
What are you reading?
Recently I've been feeling the need for a little more levity in my life so I've been revisiting Terry Pratchett's legendary Discworld series. If you enjoy fantasy and, more importantly, if you like laughing out loud, you'll enjoy this massive series.
What are you watching?
Aside from obsessively rewatching Succession (the best show on television right now), I've been going back to some old fun favourites from my teenage years: The X-Files and Buffy the Vampire Slayer. I love me some bad CGI.
What are you cooking (or baking)?
I've been trying to embrace the winter by exploring the possibilities of soups. I was never much of a soup girl when I was younger but lately I've come to appreciate them. A recent triumph was a broccoli cheddar soup flavoured with a healthy amount of mustard and some jalapeño for a warming kick!
What is your favourite place to be outside on a winter day?
Because I grew up in the countryside and now live right downtown, at any time of year I prefer to escape to quieter places. Fortunately we are lucky in Calgary to have many large parks within the city limits, as well as lovely nearby cross-country ski trails when the conditions are right!
22 February 2022
What are you listening to?
It very much depends on what I'm doing at the moment! If I'm weight lifting, it'll be something a bit more aggressive, like Rage Against the Machine. If I'm driving out to the mountains, maybe something more calm like CAKE. And I've recently been on a Mahler kick when I need to get my orchestral fix.
What are you reading?
I have begun to be more and more enamoured with the audiobook lifestyle. So I guess it's more of a listen than a read, but I'm a science fiction and fantasy nerd! Currently, I'm reading/listening to short stories by Phillip K. Dick.
What are you watching?
I am a very skilled binge watcher, so I've spent an embarrassing amount of time on Netflix in these past few years. Whether it is a Korean drama that takes the world by storm or an isolating Scandinavian detective show, I've watched it. However, the show I always come back to if I need to relax is the American sitcom Community.
What are you cooking (or baking)?
I love to eat, but I'll be honest, I'm not a great cook. On top of that, my eating habits also have the ulterior motive of trying to enhance my workouts, which really means I'm eating a lot of protein. Some of my go-tos include any combination of chicken and potatoes, my attempts at the perfect omelette, or chickpea pasta with vegan meat.
What is your favourite place to be outside on a winter day?
If I have enough time to drive out there, I love to spend my day snowboarding at one of the fine mountain resorts in the Canadian Rockies (most often Norquay). If I'm in Calgary, I enjoy walking along the Elbow River listening to podcasts. If its -20C, I'm probably watching Community.
14 February 2022
What are you listening to?
LOTS of podcasts having to do with The National Hockey League. This is, of course, to bone up on my knowledge of the NHL's daily goings-on in order to continue winning our annual playoff hockey pool. (And to follow our Calgary Flames!) Here are two of my favourites: 32 Thoughts: The Podcast and The Daily Faceoff Show with Frank Seravalli.
What are you reading?
John Grisham novels. Just finished Sooley, a touching story about a Sudanese boy who is en route to becoming a basketball star.
What are you watching?
Lots of stuff: Ozark (great fun). Also just finished a big binge of the Star Trek series Voyager (my favourite of all the series, I think).
What are you cooking?
My partner is on an alkaline diet, so I'm cooking vegetarian recipes like Quinoa Salad and Carrot Soup made in our Instant Pot (a must-have tool, btw, for anyone who likes to cook). I cheated the other day with some nasty corn fritters from Chicken on the Way.
What is your favourite place to be outside on a winter day?
Sandy Beach Park in the southwest. It's so nice and quiet and on the coldest days it is nice to see the river still flowing. I get there via Riverdale off-leash park. So interesting to see all those dogs running around in one place!
8 February 2022
What are you listening to?
I've been trying to make the most of this downtime to make myself a better trumpet player and musician, and part of that is listening to great trumpet playing. This performance of Herman Bellstedt's variations on Napoli by Norwegian trumpet soloist Ole Edvard Antonsen (a friend of our music director Rune Bergmann) has been a great source of inspiration for me — what effortless playing!
Outside of 'classical' music, I've been listening to the album 'Planetarium' by Nico Muhly, Sufjan Stevens, Bryce Dessner, and James McAlister. A musical catalogue of cosmic objects similar in form to Gustav Holst's The Planets, this is written for a vast array of electronic instruments, voice, drums, piano, string quartet, and seven trombones. Wide-ranging and extremely colourful, it's been fun to use my ears in a different way. I'll be listening to this for years.
What are you reading?
I've been reading a lot of Octavia Butler, she's always insightful and relevant. I just finished The Parable of the Sower (1993), which is set in a disconcertingly close-to-reality dystopian 2024. I also recently read Arthur C. Clarke's 2001: A Space Odyssey, which was much more straightforward than I expected it to be, so don't let it intimidate you!
Of musical interest, I read and greatly enjoyed The Path to Artistry by legendary trumpet player Timofei Dokshizer, which I would recommend to any brass player or curious listener.
What are you watching?
We've been enjoying Season 2 of The Righteous Gemstones, a series by Danny McBride with John Goodman and Edi Patterson. Everyone is crazy about Succession, but I just can't stomach it. Gemstones has a lot of thematic overlap with Succession, but does it in a way that puts a smile on my face (and doesn't make me feel sick!). McBride has mastered the art of using the perfectly wrong word, it's delightful.
I'm also looking forward to Season 4 of Stranger Things, whenever it arrives this year.
What are you cooking?
Sempre la pasta. I got the great American Sfoglino by Evan Funke early in the pandemic, and it's never spent much time on the shelf. Get yourself a giant rolling pin and build yourself a skill you'll always be glad to have!
Yesterday I got a copy of Your Home Izakaya by Tim Anderson, which I'm looking forward to digging into.
I'm also really excited for the release of J. Kenji Lopez-Alt's new book, The Wok. Kenji's Youtube channel has inspired me to step out of my kitchen comfort zone in many directions through the pandemic, and I expect this book to be as great as his widely acclaimed The Food Lab.
What is your favourite place to be outside on a winter day?
There's something particularly meditative about a freezing cold, late evening dog walk. On evenings when you just want to hunker down and go to bed, the pleading look asking for just one more walk today always leads to a feeling of really being glad you got out. One more way a dog is good for you.
1 February 2022
What are you listening to?
I've been listening to lots of different music lately. When I'm in the car, CBC Radio 2 is on if it's between 9AM and 3PM for classical music, otherwise Wild 95.3 for country music. When I have to clean my house, fast Ukrainian polka music is always on the list!
What are you reading?
Currently I am making my way through Pack Em Up, Ride Em Out: Classic Horse Pack Trips in British Columbia and Alberta by Tania Millen. I am always looking for new places to go with my horse, Taima.
What are you watching?
If I have Netflix on in the background while I'm doing other things, I've been rewatching Bones — for the third time. When I'm focused on the TV, I'm watching Mozart in the Jungle starring Bernadette Peters, and also rewatching all the Harry Potter movies!
What are you cooking (or baking)?
I recently made a huge batch of lasagna that I froze for those days when I don't have enough time or energy to make food. A friend of mine and I also enjoy Hello Fresh meals together, so I'm learning a lot of new recipes and most of them will be easy to make again. It's a great way to try different dishes in small doses!
What is your favourite place to be outside on a winter day?
My favourite place to be is Moose Mountain Horseback Adventures with Taima, my best friend. She has been my rock through all the ups and downs that have come with the pandemic, and I am very grateful for the ranch family I have out there, human and equine alike!