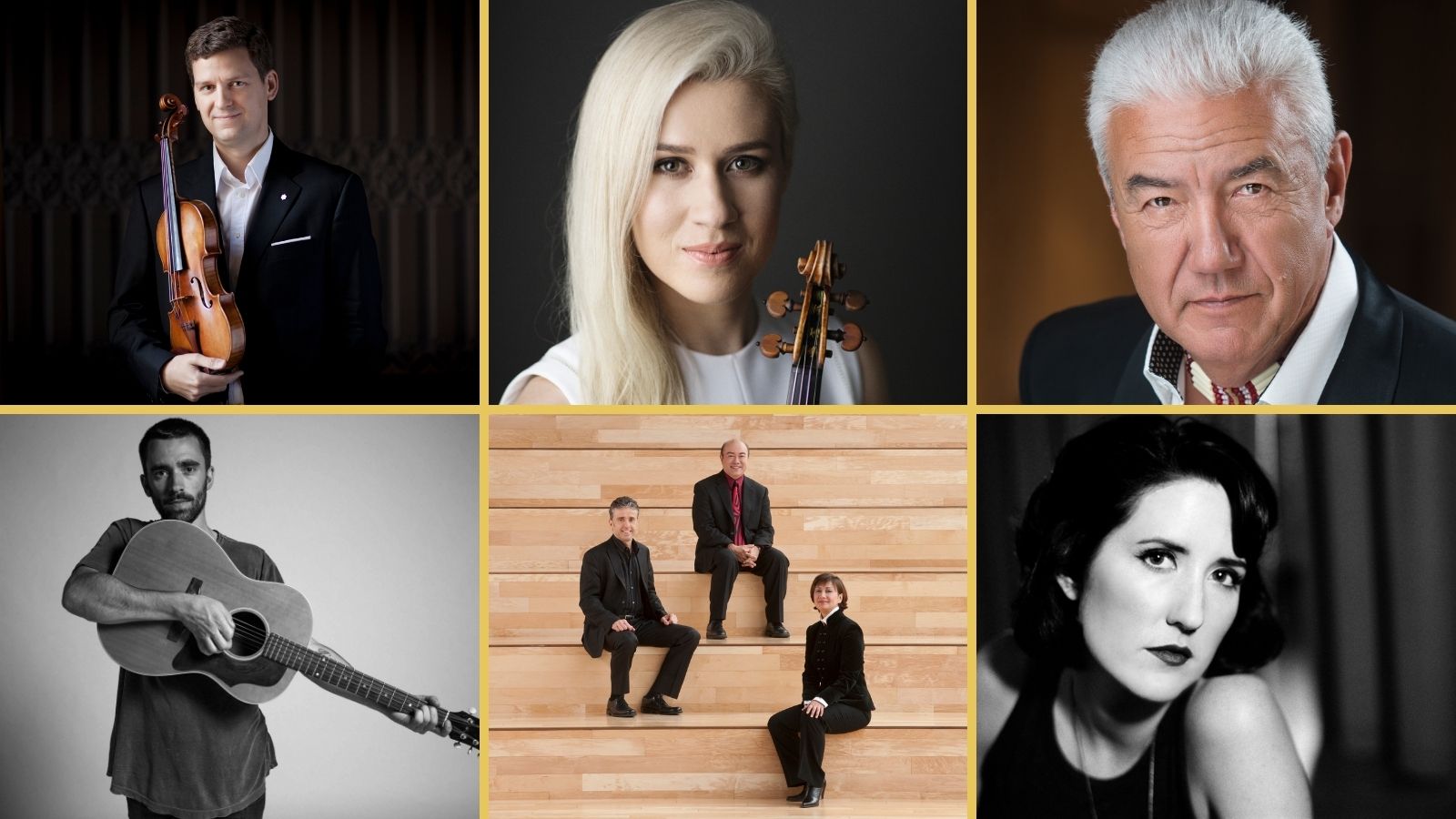 Thursday 29 April / 7:30PM
Our one-night-only Virtual Gala is Cork and Canvas's signature event. We invite your household to get dressed up and join us for an online evening of music and entertainment hosted by charismatic Associate Conductor Karl Hirzer on Thursday 29 April at 7:30 p.m.
You'll enjoy works by Wolfgang Amadeus Mozart, Felix Mendelssohn, and Richard Strauss performed by Calgary Phil musicians, as well as performances by well-known artists who have collaborated with the Orchestra in the past: violin virtuoso James Ehnes, singer and activist Tom Jackson, folk/pop singer-songwriter Michael Bernard Fitzgerald, Norwegian violinist Eldbjørg Hemsing, the Juno Award-winning Gryphon Trio, and soulful vocalist and songwriter Ellen Doty.
We also have video messages of support from fellow artists kd lang, Paul Brandt, Thorgy Thor, Daniel Bartholomew-Poyser, Gavin Hope, and Adam Johnson, among others — plus a few surprises.
To make your evening extra special, you have the option to order a gourmet meal with wine or beer from Great Events Catering to be delivered to you at home.
Proceeds from Cork and Canvas support the Calgary Philharmonic Orchestra's community education programs. All funds raised will be matched by Shaw Birdies for Kids presented by AltaLink — helping us provide enriching music experiences for more children in Calgary and beyond.
Tickets are $75 per household.
ENSEMBLE 1
Musicians:
John Lowry, violin
Stephanie Soltice-Johnson, violin
Marcin Swoboda, viola
Kathleen de Caen, cello
Sam Loeck, bass
Program:
Allegro and Romanze: Andante from Serenade No. 13 for Strings in G Major, K. 525 (Eine kleine Nachtmusik) by Wolfgang Amadeus Mozart
ENSEMBLE 2
Musicians:
Lorna Tsai, violin
Arnold Choi, cello
Akiko Tominaga, piano
Program:
Allegro energico con fuoco from Piano Trio No. 2 in C Minor, Op. 66 by Felix Mendelssohn
ENSEMBLE 3
Musicians:
Diana Cohen, violin
Roman Rabinovich, piano
Program:
Allegro, ma non troppo from Violin Sonata in E-flat Major, Op. 18 by Richard Strauss
Cork + Canvas Committee
Don Herman, Chair
Liz Middleton
Tim Onyett
Maydelin Nunez
Lauren Ridge
Michelle Yee
Lucy Pei
Partners
Wine Talk
Avignonesi
Art Chat
Masters Gallery
Pacific Wine & Spirits
Those Chocolates
Gala
Great Events Catering
Your generosity helps in many ways.