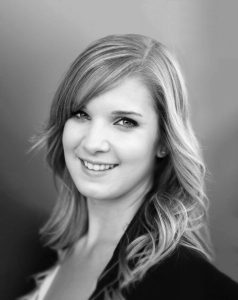 Classical music and opera are complementary art forms, as soprano Anne-Marie MacIntosh can certainly attest. She sang in children' choirs and played violin at a young age, then started taking voice lessons when she was about 12. "I immediately fell in love with it, and with my love of classical music already there, I naturally fell into opera."
A native of Langley, B.C., MacIntosh went on to study opera at the University of British Columbia and then the University of Manitoba, before coming to Calgary in 2016 and spending two years in the Emerging Artist Development Programme at Calgary Opera. "That was a really amazing time in my life where I was able to see what the professional world was all about and develop my craft as a young singer," she says.
MacIntosh joins the Calgary Philharmonic Orchestra (CPO) for three separate opera-themed concerts this Season, the first of which, Kids at the Opera, took place last weekend as part of the CPO's Symphony Sundays for Kids series. She says the concert was a great opportunity to introduce some families to the art form that maybe wouldn't have experienced it before. "Especially for kids, to hear the operatic voice, to see the drama of it, to really connect with the characters, is so valuable."
On Friday, September 27, MacIntosh is performing a one-hour programme for Rush Hour: Greatest Opera Hits, the first show of that Series, followed by a full concert on Saturday, September 28 for the first Discovery Series concert. One of the arias she'll sing at both concerts — Je veux vivre from Gounod's Romeo et Juliette — has a very special place in her heart. "I actually made my role debut singing Juliette with Calgary Opera last fall, and that was a really big deal for me," she says. "It was an amazing cast, and just to come back to the company that really championed me as a young artist was a very special moment, so I'm excited to be singing that with the CPO again."
In addition to the CPO, MacIntosh is joined by tenor Charles Sy and conductor Jayce Ogren. She's excited to sing with Charles, noting that Canada's opera community is quite small, and she's worked with him before. "One of the pieces we're doing, Esulti pur la barbara from the Elixir of Love, is the sweetest little duet," she says. "This is the moment where Nemorino is playing hard to get, and Adina is starting to get frustrated, which illuminates the fact that she might have more feelings for him than she's willing to let on. It's very cute, so I'm really excited to sing that one with him — I think it's going to be a lot of fun!"
Performing in an opera production and singing opera excerpts onstage with an orchestra are two very different ways of approaching the repertoire. "As a concert performer, there's a bit more responsibility on you to create an atmosphere for the audience as much as you can," she explains. "With an opera, you have the set, your partners onstage, the costumes, and the props to do a bit of that for you, but I think it's pretty thrilling in a concert setting to just be standing right in front of the orchestra.
"They're not in an orchestra pit — you have the power right behind you, supporting you, buoying you up, and you just sing your heart out!"
Written by guest contributor Jill Girgulis
Jill Girgulis is a student at the University of Calgary and a regular contributor for thegauntlet.ca as well as buzzfeed.com. When she's not busy studying for her Doctor of Veterinary Medicine degree, she can most often be found in one of the first three rows of the Jack Singer Concert Hall.