EVENINGS WITH THE CALGARY PHILHARMONIC
LISTEN …AND LEARN
concerts and classes
Ever wondered how an orchestra operates, or the meaning behind the repertoire you hear at CPO performances?
Since the 1990's, the CPO has offered a course that teaches students about our classical repertoire in a combined classroom and concert experience to broaden your understanding and appreciation of classical music. Over the past few years, this course has been offered through the University of Calgary's Continuing Education Faculty, and is called "Evenings with the Calgary Philharmonic Orchestra."
Classes are held in the evenings, from 7PM–9PM at the UCalgary main campus.
Through listening, lecture, discussion and attendance at select Calgary Philharmonic Orchestra concerts, examine the making and development of classical music with the aim of deepening your understanding and appreciation of this music genre. Students in this course attend the concerts they learn about and receive a backstage tour before the final concert in the session. Each class has a visit from a CPO musician who speaks about their instrument, career path, what it's like to make music for a living, and answer questions from students. Through four preview sessions, the course offers a layman's introduction to four concerts and attendance at those concerts. Course fee includes the price of concert tickets, orchestra seating. Calgary Philharmonic season ticket holders please call to register at a reduced rate.
Evenings with the Calgary Philharmonic
Instructor: CPO Artistic Operations Director Jennifer MacDonald, MA — plus guest speakers
$325 + GST; classes and concert tickets
$185 + GST for CPO season ticket holders
HUM 405 – $325 + GST
026 – Fall 2018 – 24 Sep, 9 Oct, 22 Oct, 5 Nov
About Jennifer MacDonald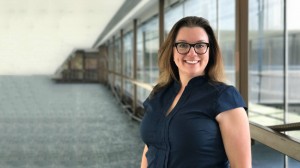 Jennifer MacDonald, Director of Orchestra Operations at the Calgary Philharmonic Orchestra teaches HUM 405 – Evenings with the Calgary Philharmonic at the University of Calgary.
Before moving to Calgary in 2011, Jennifer was Assistant Artistic Administrator with the Toronto Symphony Orchestra, and had previously served as Artistic Administrator for the Ottawa Chamber Music Society. Jennifer holds an MA from McGill University in musicology, and a BMus from Mount Allison University. In 2017, she was named one of Avenue Magazine's Top 40 Under 40.